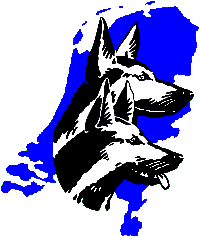 Puppy training
On June 28 a litter of 4 puppies was born, all females.
We had the first choice.
We named her "Seven" because it is our seventh dog and also a bit after the character "Seven of Nine" from the series Startrek.

We hope to train her for a search dog and at age 7 1/2 weeks it looks promising!

At 3 months we did the first disaster training, a runaway with an open victim.


A runaway

Finding the victim

Handler and dog "fight" with the victim
for the toy

Another excercise.

It still is a lot of fun.



Back to sardogs homepage.